Integrated Silicon Solution, Inc. (ISSI)

- Integrated Silicon Solution, Inc. (ISSI), is a technology leader that designs, develops, and markets high performance integrated circuits for the following key markets: (i) automotive, (ii) communications, (iii) digital consumer, and (iv) industrial and medical. Their primary products are high speed and low power SRAM and low and medium density DRAM. The company also designs and markets NOR flash products and high performance analog and mixed signal integrated circuits. They target high-growth markets with our cost-effective, high-quality semiconductor products and seek to build long-term relationships with our customers. They have been a committed long-term supplier of memory products, including lower density and smaller volume products, even through periods of tight manufacturing capacity.
eMMC Product Family
Publish Date: 2018-03-15
eMMC provides High Reliability, Endurance and full Feature Set, Small footprint, Multiple package options, Industrial Temperature and Automotive Grade along with Long term support.
Duration: 5 minutes
IS32LT3175 LED Driver
Publish Date: 2017-04-28
This tutorial provides an overview of the features and benefits of the IS32LT3175 for automotive interior lighting.
Duration: 5 minutes
Matrix LED Driver IC Solutions
Publish Date: 2017-04-28
This PTM will discuss the LED driver matrix architecture, review some applications and provide an overview of ISSI's matrix driver product family.
Duration: 5 minutes
SPI Flash
Publish Date: 2016-11-03
SPI solutions offer multiple advantages over Parallel Flash solutions.
Duration: 5 minutes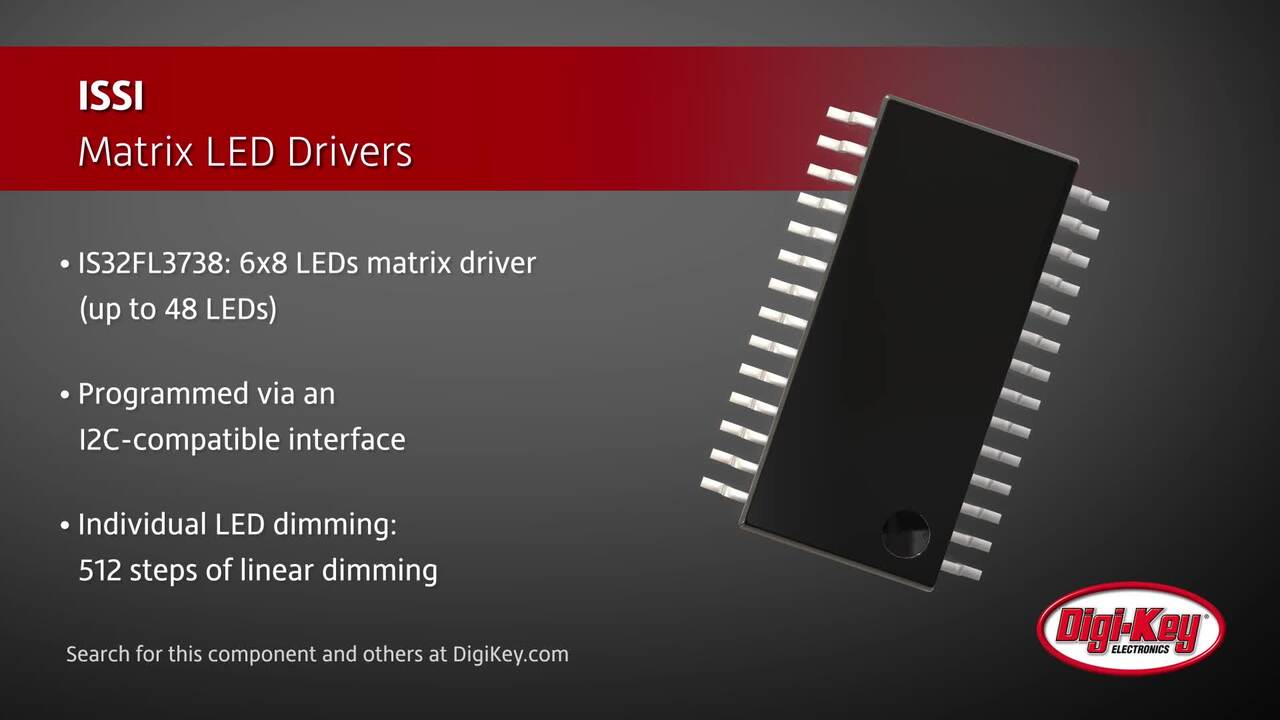 ISSI Matrix LED Drivers | Digi-Key Daily
The ISSI family of matrix LED drivers has been evolving to meet ever-expanding customer requirements. The first-generation matrix driver evolved to the second generation by incorporating an enhanced I2C bus interface.
Color Bar Using IS31FL3236
The IS31FL3236 is comprised of 36 constant current channels each with independent PWM control, designed for driving LEDs. The output current of each channel can be set at up to 38mA (Max.) by an external resistor.
Logo Illumination Using the IS31FL3199
IS31FL3199 is a 9-channel light effect LED driver which features two-dimensional auto breathing mode and an audio modulated display mode. It has One Shot Programming mode and PWM Control mode for RGB lighting effects.
Additional Content
White Papers

Cross References

Newsletters

Press Releases

Selector Guides

Part Numbering Guides

Reference Design Boards

Product Information